Stolzsein Demolition Man
Diesel has matured into a large substantial dog. He has strong bone, a strong masculine head with dark eyes and pigmentation. He has a open and friendly temperament.

Diesel is loved and lives with Vince, Rosanne, Danielle and Christian Moca. We thank them for the great work they are doing with Diesel and greatly appreciate them allowing us to show this handsome boy.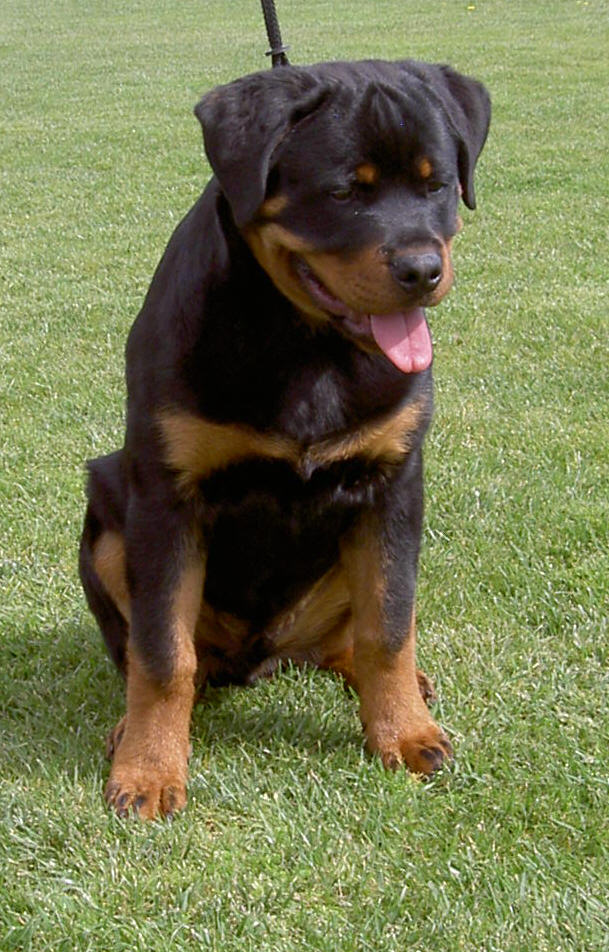 HD and ED - Yet to be done, Eyes Clear and Correct Dentition
DOB: 8th April 2009
Sire:
Multi V1, National Rottweiler Council (Australia) Champion, Australian Champion Ludendorf Jaeger

HD:3.2, ED:R2 L2,
E & M Cert, NRCA Breed Survey Pass

DNA Profiled #ROT12604

Sire:
Multi V rated,
Ludendorf Ferro (AI)

HD 3.3, ED R1 L0
Eyes Clear, Scissors, NRCA Breed Survey

Sire:
Multi V1,
Utz vom Hause Miles, BH AD SCH ll (USA)
RO-53691G71M-PI, RO-EL2180M24-T, HD 2.2 ED1.1

Dam:
Multi V rated, Bailifscourt Aboss Aria (AI)
HD 1.4 ED R0 L1
Eyes Clear, Scissors

Dam:
Multi V1 rated,
Ludendorf Evie

HD 3.3, ED R0 L0,
E & M Cert,
NRCA Breed Survey Pass

Sire:
Australian Champion, National Rottweiler Council (Australia) Champion,
Multi BISS, Multi V1, Multi V,
Allgemein Felix
HD 3.4, ED R1 L1
E & M Cert

Dam: Multi V rated,
Bailifscourt Aboss Aria (AI)

HD 1.4, ED R0 L1
E & M Cert

Dam:
Blakesims Oncruz Control

HD: 3.3, ED: R1 L0, Eyes Clear Scissors
NRC[A] HD ED Eye and Mouth Certified #002416

DNA Profiled #ROT19031

Sire:
V Rated,
Stolzsein JQ Urthe Bosch

HD: 2.3, ED: R0 L0,
NRC[A] HD, ED, E & M Cert #001055

DNA #ROT19030

Sire:
Multi V1, Multi BISS, Australian Champion
Jenecks Quik BH, Ztp
(IMP USA)
HD: 0.0 E & M Cert

Dam:
Multi V1, RUBISS, '98 RCV Siegerin, Australian Champion Linbedach Twist N Shout
HD: 3.6, ED: R2 L1
E & M Cert, NRCA Breed Survey Pass

Dam: V Rated,
Blakesims Petra v Gowenhaus (USA - Imp via UK)

HD: 5.5, ED: R0 L0
E & M Cert

Sire:
Dolf von Bickesheim,
Multi-Sieger, SchH 1 (GMY), ADRK 096680, KC WS06680701 HD frei

Dam:
Gina vom Gowenhaus (USA), WP93705301, RO-61792G26F, RO-EL3744F26-Normal
Click
here
to view an extended pedigree for Diesel