Stolzsein Cannon Bolt
Cannon is medium / large size male. He has strong bone with excellent substance, a strong masculine head with dark eyes and pigmentation. He has balanced angulations and a compact body. He covers the ground effectively and easily with a strong level topline and has clean mahogany markings. Cannon displays a confident and outgoing nature, he has a willingness to please and is a pleasure to work with.

We look forward to campaigning him in both the All Breed and Specialty Rings. Cannon is already a producer of V rated progeny from his only litter.

We look forward to what the future may bring for him.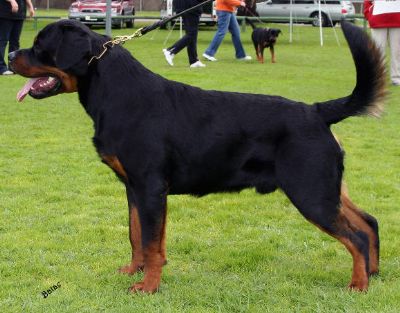 Above picture - Cannon winning Best Puppy In Show at the
Rottweiler Club of South Australia 33rd Championship Show June 2009
Judge - Kate Pinches (Greece)
A week later Cannon is again awarded
Best Puppy In Show at the Rottweiler Club of Victoria Open Show 2009
Judge Mr Mick Svaljek
Cannon has a lot of character and a willingness to please, he is a very social dog and very playful. Cannon is a twin to our CC and although only a medium size dog he too like his twin has a very large personality. Cannon is also known as a Mud Monster here and at times he has excelled himself in keeping up the MM tradition. His best MM attempt was captured and this picture of him is below. This picture also recently won a photo competition on a working dog forum, no doubt he made many people laugh at his smiling mud face.
HD: 1.1, ED: R1 L2, Eyes Clear, Scissors Bite,
NRC[A] HD ED Eye and Mouth Certified #002772
DOB: 12th September 2008
Sire : V rated, Stolzsein JQ Urthe Bosch

HD: 2.3, ED: R0 L0, Scissors, Eyes Clear, NRCA #001055

Sire: Multi V1, Multi BISS, Australian Champion Jenecks Quik BH, Ztp (IMP USA),

HD: 0.0
Eye and Mouth Cert.

S: Multi ARV Sieger, V-1, Jenecks Wotan, SchHIII, IPOIII, FH, BH, AD, Gekort bis EzA, Korung, ARC Gold Producer Award 1998, WP0309384, RO-3465G24M-T

D: Multi V Jenecks Bessy, Ztp, BH

Dam: RUBISS, '98 RCV Siegerin, Australian Champion Linbedach Twist N Shout

HD: 3.6. ED: R2 L1, Scissors, Eyes Clear, NRCA Breed Survey Pass

S: Multi V rated,
Australian Champion
Linbedach My Dakota


HD: 1.0, ED: R2 L2,
Scissors Eyes Clear

D: Australian Champion Linbedach Brooke Shields


HD: 5.3, Scissors, Eyes Clear

Dam : V1, Multi V rated, Ludendorf Imogene

HD 1.0, ED R2 L2, Scissors, Eyes Clear, NRCA #002341

Sire : Australian Champion, National Rottweiler Council (Australia) Champion, BIS,RUBISS, Multi V1, Multi V, Ludendorf Erik

HD 4.3, ED 0.0,
Scissors, Eyes Clear

S: Australian Champion, National Rottweiler Council (Australia) Champion, Multi BISS, Multi V1, Multi V, Allgemein Felix

HD 3.4, ED 1.1 Scissors, Eyes Clear

D: Multi V rated, Bailifscourt Aboss Aria (AI),

HD 1.4, ED 0.1,
Scissors, Eyes Clear

Dam : Multi V rated, Ludendorf Fallon (AI)

HD 3.3, ED 0.0, Scissors, Eyes Clear

S: Multi V1, Utz vom Hause Miles BH AD SCH ll (USA),

RO-53691G71M-PI, RO-EL2180M24-T, HD 2.2, ED 1.1

D: Multi V rated, Bailifscourt Aboss Aria (AI)

HD 1.4, ED 0.1
Scissors, Eyes Clear
Click here to view an extended pedigree for Cannon