Stolzsein Grand Designs
Stolzsein Grand Designs, also known as Gabby.

Gabby was known as Miss Black in her litter of 4 females and 4 males. Gabby was to have gone to Europe, but unfortunatley she had a little set back shortly before she was to depart Australia and we had to postpone her departure. We believed that this would only be short lived and her potential new owner declined to wait an extra month or so for this to be dealt with. Luckily for us she is still here and is none the worse for wear for her minor and brief set back.
Gabby is a very forward puppy, she is always getting into things and finding stuff to do. She was a lovely strong puppy in both looks and mentally. She has a great determination and drive and is a very fun puppy to live with. She is vocal at times and likes to give the older dogs a bit of cheek.

Gabby is owned and loved by Simon Paton.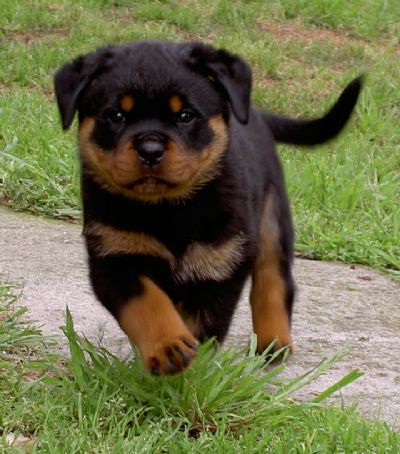 Gabby at 6 weeks old

More pictures of Gabby below.
---
Date of Birth; 16th September 2011


Sire

Multi V1,
Multi V rated,
National Rottweiler Council [Australia] Champion, Australian Champion,

Ubersein Strong Persuader

HD 0.0, ED 0.0,
Scissors, Eyes Clear






Sire


Bailifscourt
Aboss Agent (AI)

HD 6.3, ED 2.2
Scissors, Eye Clear







Sire
Select American Champion Boss vd Biestse Hoeve (Ndl) SchH III, CD,TD, BH, ZtP,CGC,
ARC Silver Sire, RO-24301G25M, RO-1197




Sire
BISS FCI Int'l/Am/Bel/Can/Lux/Ned CH Barto van 't Straotje (Ndl) IPO III, Am/Can TD,
RO-16980G25M-T,
CERF:RO-794

Dam
Dagmar vd Biestse Hoeve
RO-21161G

Dam
Australian Champion
Ormslee
Elite Empress (A) (AI)

HD: 4.9, ED B.1



Sire
BIS, Multi BISS,
Select Am CH
Ironwood's Cade (USA) Am CD CGC, RO-10845-T,
RO-1629, OFA Good



Dam


Ormslee Yasu (A)
HD 0.1, ED 0.1

Dam

RUBISS,
National Rottweiler Council [Australia]
Champion & Dual Champion (T) Ubersein On A Promise CDX

HD 0.0, ED 0.0, Scissors, Eyes Clear




Sire
BISS, BSDISS, Multi V1, National Rottweiler Council [Australia] Champion, Australian Champion
Ubersein Eliminator

HD 1.3, ED 0.0
Scissors, Eyes Clear




Sire
Best Stud Dog
In Specialty Show,
Brabantsia Diesel




Dam
BISS / Multi Best Brood Bitch In Specialty Show,
Australian Champion
Ubersein Coy O Corrie




Dam
Multi V1, Multi V Rated, National Rottweiler Council [Australia] Champion, Australian Champion
Oscelly Strumpets Lass

HD 2.3, ED 0.0,
Scissors, Eyes Clear



Sire
V1, Multi V Rated,
National Rottweiler Council [Australia],
Ubersein Get Up And Go, ET

HD 1.2
Scissors, Eyes Clear





Dam
Ubersein Fan the Flames
HD 3.5

Dam

Multi V Rated,

Stolzsein Chief Justice

HD 1.1, ED 0.2,
Scissors, Eyes Clear





Sire

V Rated,
Stolzsein JQ Urthe Bosch, HT

HD 2.3 ED 0.0
Scissors, Eyes Clear

NRCA #001055
DNA #ROT19030



Sire
Multi V1, Multi Best In Specialty Show,
Australian Champion
Jenecks Quik,
BH, Ztp (IMP USA)

HD 0.0
Scissors, Eyes Clear






Sire
Multi ARV Sieger, Multi V1,
Jenecks Wotan (USA)
SchH111, IPO111, FH, BH, AD, Gekort bis EzA, Korung, ARC Gold Producer Award 1998, WP0309384, RO-3465G24M-T




Dam
Multi V Rated
Jenecks Bessy (USA)
Ztp, BH





Dam
Multi V1, Multi V Rated, Runner Best In Specialty Show, '98 RCV Siegerin, Australian Champion
Linbedach Twist N Shout

HD 3.6, ED 2.1
Scissors, Eyes Clear
NRCA Breed Survey Pass



Sire
Multi V Rated,
Australian Champion
Linbedach My Dakota

HD 1.0, ED 2.2
Scissors, Eyes Clear



Dam
Australian Champion
Linbedach Brooke Shields

HD 5.3
Scissors, Eyes Clear






Dam

V1, Multi V Rated,
Ludendorf Imogene

HD 1.0, ED 2.2
Scissors, Eyes Clear
NRCA #002341
DNA #ROT19029



Sire
Multi V1, Multi V Rated,
Best In Show,
Runner Up Best In Specialty Show,
National Rottweiler Council [Australia] Champion,
Australian Champion,
Ludendorf Erik

HD 4.3, ED 0.0
Scissors, Eyes Clear



Sire
V1, Multi V Rated,
Multi Best In Specialty Show,
National Rottweiler Council [Australia] Champion,
Australian Champion

Allgemein Felix

HD 4.3, ED 1.1
Scissors, Eye Clear






Dam
Multi V Rated,
Bailifscourt Aboss Aria (AI)

HD 1.4, ED 0.1
Scissors, Eye Clear





Dam
Multi V Rated,

Ludendorf Fallon (AI)

HD 3.3, ED 0.0
Scissors, Eyes Clear




Sire
Multi V1, Runner Up Best In Specialty Show,
Utz vom Hause Miles
(IMP USA),
SchH111, BH, CGC,
RO-53691G71M-PI,
EL2180M24-T,
HD 2.2, ED 1,
(re-xrayed in Australia)






Dam
Multi V Rated,
Bailifscourt Aboss Aria (AI)

HD 1.4, ED 0.1
Scissors, Eye Clear